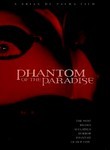 Phantom of the Paradise
Cast:

Director:
Writer-director
Brian De Palma
pumps 1970s decadence into
The Phantom of the Opera
story with a rock opera that replaces divas with pop stars. After being injured in a record factory, disfigured songwriter Winslow Leach (
William Finley
) haunts the Paradise -- the music house of the demonic Swan (
Paul Williams
), who ripped off Leach's tunes and idea for a pop masterpiece. Williams penned this campy cult film's Oscar-nominated score.