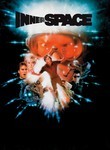 Innerspace
Cast:

Dennis Quaid, Martin Short, Meg Ryan, Kevin McCarthy, Fiona Lewis, Vernon Wells, Robert Picardo, William Schallert, Henry Gibson, Mark L. Taylor, Orson Bean, Kevin Hooks, Kathleen Freeman, Dick Miller, Kenneth Tobey, Andrea Martin, Frank Miller, Jenny Gago, Terence McGovern, Chuck Jones, Alan Blumenfeld, Herb Mitchell, Charles Aidman

Director:
A hell-raising Navy test pilot (
Dennis Quaid
) is miniaturized for a top-secret exploratory journey inside a laboratory rabbit -- but is instead injected into the body of a high-strung nebbish (
Martin Short
) who works as a supermarket clerk. Co-starring
Meg Ryan
, Innerspace is like The Fantastic Voyage with a laugh track. Short's twitchy physical comedy is a marvel to behold.