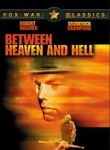 Between Heaven and Hell
Cast:

Robert Wagner, Broderick Crawford, Terry Moore, Buddy Ebsen, Robert Keith, Brad Dexter, Mark Damon, Harvey Lembeck, L.Q. Jones, Tod Andrews, Irene Browne, Erik Chitty, Scatman Crothers, Frank Gerstle, Frank Gorshin, Percy Herbert, Arthur Howard, Roy Kinnear, Jane Lapotaire, John Laurie, Gregg Martell, Scotty Morrow, Natasha Pyne, Clive Revill, Carl "Alfalfa" Switzer

Director:
A must-see war film with magnificent battle scenes. Rich, arrogant plantation owner Sam Gifford (Robert Wagner) has always treated those of lesser means with disdain and contempt. But when Gifford hits the Pacific theater as a soldier in World War II, he gets a case of the nerves and a crazy new commander -- and soon learns that, in war, all foot soldiers are equal.