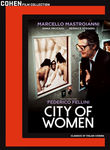 City of Women
Cast:

Director:
Director
Federico Fellini
's love of women and thoughts on feminism form the focus of this visually stunning work. Frequent Fellini thespian
Marcello Mastroianni
stars as Snaporaz, a traveler who awakens on a train to meet a lovely young woman. His pursuit of her begins a dreamlike journey that brings him to a feminist convention where he finds himself surrounded by modern women.