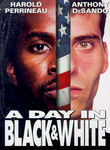 A Day in Black & White
Cast:

Director:
Race relations receive a humorous spin in this film about two friends -- known only as Black Man (
Harold Perrineau
Jr.) and White Man (
Anthony DeSando
) -- who must give an oral presentation on race. Naturally, the two have differing viewpoints and experiences, and their talking gives way to arguing -- until they realize they haven't written a word of their presentation. As they work together, the men learn some lessons about themselves.