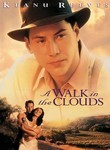 A Walk in the Clouds
Cast:

Keanu Reeves, Aitana Sánchez-Gijón, Anthony Quinn, Giancarlo Giannini, Angélica Aragón, Evangelina Elizondo, Freddy Rodriguez, Debra Messing, Febronio Covarrubias, Roberto Huerta, Juan Jimenez, Ismael Gallegos, Alejandra Flores, Gema Sandoval, Don Amendolia, Gregory Paul Martin

Director:
Love becomes complicated when World War II vet Paul Sutton (Keanu Reeves) falls for Victoria (Aitana Sanchez-Gijon), a pregnant and unwed woman who persuades him -- during their first encounter -- to pose as her husband at a Napa Valley vineyard owned by her despotic father, Alberto (Giancarlo Giannini). Director Alfonso Arau helms this romantic fable, which won a Golden Globe for Best Original Score. Anthony Quinn co-stars.