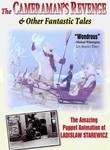 The Cameraman's Revenge & Other Fantastic Tales
Cast:

Director:
Enter the imaginative, humorous and bizarre puppet world of stop-motion animation pioneer
Wladyslaw Starewicz
. He explores insect infidelity in The Cameraman's Revenge (1912); an ornament hops off a tree in The Insect's Christmas (1913); frogs search for a king in Frogland (1922); and a dog tries to cheer up a sick girl in the visual feast The Mascot (1933). The collection also includes Voice of the Nightingale (1923) and Winter Carousel (1958).