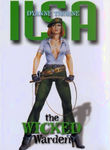 Ilsa, the Wicked Warden
Cast:

Director:
When her sister disappears, Abbie Phillips (
Tania Busselier
) goes undercover in a South American mental institution run by none other than the sadistic Ilsa (
Dyanne Thorne
), where the sexual excesses are only the initial shock. Abbie also uncovers a range of bizarre torture that's taped and sold as pornography. Proud purveyor of sleaze
Jess Franco
directs this sordid installment of the Ilsa franchise.