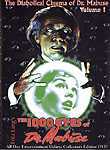 The 1,000 Eyes of Dr. Mabuse
Cast:

Director:
Kras (
Gert Frobe
), a relentless police inspector, is tracking a series of mysterious murders that all seem to point to one place: the Nazi-built Hotel Luxor. Each grisly crime has the mark of Dr. Mabuse, a well-known evil genius -- but he's been dead for 30 years. Now, Kras isn't trusting anyone. Director
Fritz Lang
's final film co-stars
Peter van Eyck
,
Dawn Addams
,
Wolfgang Preiss
and
Werner Peters
.