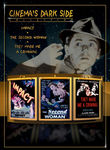 Cinema's Dark Side: Impact/ The Second Woman/ They Made Me a Criminal
Cast:

Director:
This unique collection from Hollywood's golden age showcases three classic film noir flicks released in 1939. Impact tells the story of a man (
Brian Donlevy
) suffering from amnesia who learns of his own torrid past. Second Woman is a gothic tale of a man (
Robert Young
) plagued with uncanny bad luck. They Made Me a Criminal follows a boxer and murder suspect (
John Garfield
) who reforms a group of dead-end kids while he's on the lam.