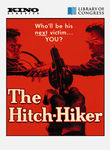 The Hitch-Hiker
Cast:

Director:
Good friends Ray Collins (
Edmond O'Brien
) and Gilbert Bowen (
Frank Lovejoy
) set out on a leisurely weekend fishing trip and pick up a hitchhiker along the way. Too bad for them, the hitcher, Emmett Myers (
William Talman
), turns out to be a raving sociopath. He's committed murder before and is looking to do so again. Emmett plays with his prey and watches them squirm in this
Ida Lupino
-directed thriller.