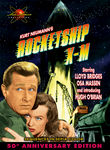 Rocketship X-M
Cast:

Director:
Led by the intrepid Col. Floyd Graham (
Lloyd Bridges
), a crew of astronauts (Osa Massen,
John Emery
,
Noah Beery Jr.
and
Hugh O'Brian
) embarks on the first manned mission to the moon. But as often happens in early-1950s sci-fi adventures, their mission goes awry, and they crash-land on Mars. Instead of a barren rock, however, the crew finds a war-ravaged world inhabited by hostile cavemen and radiation-riddled creatures.