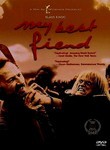 My Best Fiend: Klaus Kinski
Take a closer look at the tempestuous-yet-legendary pairing of two creative giants of the film industry:
Werner Herzog
and
Klaus Kinski
. Their love-hate relationship yielded five films, including Aguirre, The Wrath of God -- as well as independently, simultaneously hatched plans to murder each other. Rage, trust, betrayal, destruction; truth really
is
stranger than fiction.