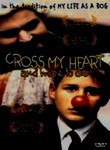 Cross My Heart and Hope to Die
Cast:

Director:
Norwegian director
Marius Holst
's coming-of-age tale skillfully blends mystery and drama. When the best chum of quiet, naive teen Otto Olsen (
Martin Dahl Garfalk
) heads off for summer vacation, Otto forges a quick friendship with Frank (
Jan Devo Kornstad
), a charismatic older boy. Unfortunately, Frank's influence is a catalyst for mischief, and soon a rock-throwing incident at a soccer match morphs into a crime spree in this arresting film.