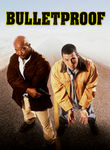 Bulletproof
Cast:

Director:
In this buddy crime comedy, hard feelings must be set aside when undercover cop Rock Keats (
Damon Wayans
) is first shot by small-time crook Archie Moses (
Adam Sandler
), then forced to team up with the bungling oaf when both men are targeted by crime boss Frank Colton (
James Caan
). Upon Rock's release from the hospital, he finds out that Colton's hit men are after him and Archie. High jinks ensue when the dueling duo run from the baddies.