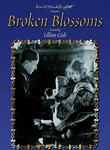 Broken Blossoms
Cast:

Director:
Gentle ideologist Cheng Huan (
Richard Barthelmess
) migrates to England hoping to sow the seeds of Buddhism's pacifist canons. Instead, he ends up as an opium addict in London's seedy Limehouse district. Enter ethereal waif Lucy (
Lillian Gish
), who collapses at Huan's door thanks to another battering by her drunkard, pugilist father (Donald Crisp). As Huan nurses Lucy back to health, a tacit romance blooms … with tragic results.