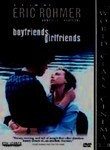 Boyfriends & Girlfriends
Cast:

Director:
A group of friends living in the bourgeois Paris suburbs are searching for love but find themselves in a state of confusion when their attractions and loyalties begin to waver. A weekend windsurfing excursion seems just the right time for some relationship reassessment … and rearrangement. Director
Eric Rohmer
peels off the façade to center on the principals' vacant existence in this intelligent, chatty drama.