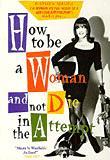 How to be a Woman and not Die in the Attempt
Cast:

Director:
Forty-something working mom Carmen (
Carmen Maura
) should be up for a woman of the year award, precariously balancing her children, her third marriage and a career as a journalist. She wishes that someone -- perhaps her new husband, Antonio (
Antonio Resines
) -- would notice how much she has on her plate. But when she's passed up for a promotion, it becomes clear to Carmen that it's a man's world -- and she's not going to take it anymore.