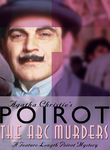 Masterpiece Mystery!: Poirot: The ABC Murders
Cast:

Director:
In one of Agatha Christie's most intriguing Hercule Poirot mysteries, the inimitable Belgian sleuth (
David Suchet
) must untangle the baffling case of a murderer who announces his next victims through a series of chilling letters. Each missive is addressed to the detective himself, but the targets and crime scenes don't seem to have anything in common -- except for a curious alphabetical pattern.