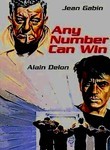 Any Number Can Win
Cast:

Director:
In this classic French caper, aging career felon Charles (
Jean Gabin
) -- who's just out of prison -- spurns his wife's plan for a quiet, upright life and instead recruits his ex-cellmate (
Alain Delon
) to help him with one last score. They painstakingly plan a bodacious casino heist in Cannes, masquerading as high rollers to case the place. Can the old pro and his cocky young accomplice pull off the perfect crime?