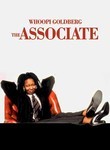 The Associate
Cast:

Whoopi Goldberg, Dianne Wiest, Tim Daly, Bebe Neuwirth, Laine Kazan, Kenny Kerr, Eli Wallach, Austin Pendleton, George Martin, Helen Hanft, Zeljko Ivanek, Miles Chapin, Lee Wilkof, George Morfogen, Jean De Baer, Allison Janney, Frederick Rolf, Robert Levine, Sally Jessy Raphael

Director:
When Laurel (
Whoopi Goldberg
) learns that her less-smart and sexist protégé, Frank (
Tim Daly
), is promoted, she quits to start her own company -- only to find out that the male-dominated Wall Street world can't take an African American woman seriously. And when her older, white, male business partner becomes the financial district's favored whiz, things really take a turn for the worse.
Dianne Wiest
co-stars in this comedy.