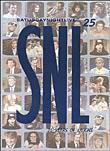 Saturday Night Live: 25th Anniversary
Cast:

Dan Aykroyd, Eddie Murphy, Mike Myers, Christopher Walken, Adam Sandler, Kevin Spacey, Martin Short, Steve Martin, Lily Tomlin, Billy Crystal, Tom Hanks, Paul McCartney, Alec Baldwin, Chris Rock, Chris Farley, Jon Lovitz, Patrick Swayze, David Bowie, Chevy Chase, Bill Murray, Garrett Morris, Candice Bergen, Victoria Jackson, Linda Hamilton, Dennis Miller, Al Green, Phil Hartman, Jerry Seinfeld, David Spade, Molly Shannon, Elvis Costello, Garth Brooks, Dana Carvey, Jane Curtin, Al Franken, Michael Jordan, Kevin Nealon, Laraine Newman, Joe Piscopo, Roseanne Barr

Director:
Live! From New York! It's a star-studded celebration of 25 years of "Saturday Night Live!." A comedy institution, "SNL" has launched the careers of comic greats like Bill Murray, Eddie Murphy and Adam Sandler. Featuring a feast of classic clips, hilarious new comedy (with guests such as Chris Rock and Tom Hanks) and musical performances by The Eurythmics, Al Green and Elvis Costello, this recap is a hilarious look back at the first quarter century.