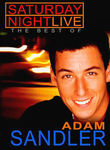 Saturday Night Live: The Best of Adam Sandler
Cast:

Adam Sandler, Rob Schneider, Courteney Cox, David Duchovny, David Spade, Shannen Doherty, Kirstie Alley, Chris Farley, Alec Baldwin, Michael Keaton, Glenn Close

Director:
From Opera Man to Canteen Boy, this dynamic retrospective contains some of Adam Sandler's finest moments on "Saturday Night Live." Sandler spent several years perfecting his comedic skills on the show before launching a successful film career. Besides skits featuring his wackiest characters (Cajun Man and the Gap Girl, among others), the collection includes contributions by guests Michael Keaton, Courteney Cox, Kirstie Alley and Alec Baldwin.