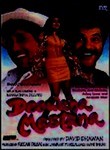 Deewana Mastana
Cast:

Director:
Small-time crooks Raja (
Anil Kapoor
) and Ghafoor (
Johnny Lever
) pull off a train-station heist and flee to Mumbai with the loot. At the Mumbai airport, they catch sight of gorgeous shrink Neha Kapoor (
Juhi Chawla
), and it's love at first site for Raja. To cozy up to the doctor, Raja has Ghafoor masquerade as his chauffeur and feign an obsession with marrying off his boss -- with Raja along for the ride as his concerned friend.