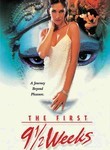 The First 9 1/2 Weeks
Cast:

Director:
Set in New Orleans, this steamy film follows hot-to-trot stockbroker Matt Wade (
Paul Mercurio
) as he heads to the Big Easy to court the fortunes of an eccentric, elderly millionaire (
Malcolm McDowell
) and encounters an unexpected distraction -- the prospective client's beautiful wife (
Clara Bellar
). Will he seal the deal or give in to temptation? Director
Alex Wright
penned this prequel to the erotic thriller 9-1/2 Weeks.