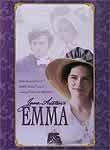 Masterpiece Classic: Emma
In this adaptation of Jane Austen's timeless novel,
Kate Beckinsale
stars as Emma Woodhouse, the charming and oh-so-clever young lady who fancies herself a matchmaker and attempts to find a husband for a shy friend (
Samantha Morton
). However, it becomes clear that Emma's matchmaking abilities are not quite up to par. Little does Emma realize that her interest in the affairs of others could cause her to miss out on the love of her life.