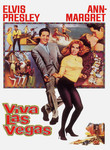 Viva Las Vegas
Cast:

Director:
Race car driver Lucky Jackson (
Elvis Presley
) pulls into Las Vegas, ready for the city's first-ever Grand Prix. All he needs is enough money to buy a new engine, so he takes a job as a waiter at a casino. Lucky finds time to court the beautiful swimming pool manager, Rusty Martin (
Ann-Margret
), with his crooning skills -- but both the race and Rusty may be up for grabs when rival Count Elmo Mancini (
Cesare Danova
) rolls into town.