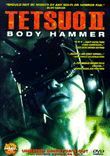 Tetsuo II: Body Hammer
Cast:

Director:
In post-industrial Tokyo, where man and machine are merging, businessman Taniguchi Tomoo (
Tomoroh Taguchi
) is pushed over the edge when skinheads kidnap his son. The anger he experiences triggers his transformation from a mild-mannered family man into a machine. He is a walking arsenal who becomes involved in a deadly game with the leader of the skinheads. Soon, he transforms into an even more malicious fighter.